Juice pairing at Salt
A carefully-picked drink selection is an essential part of a well-rounded restaurant experience: it not only highlights but complements the flavours, creating an even more complex influence for the diner.
The first thing that comes to mind when talking about complementing dishes is, of course, wine. At Salt, however, besides exciting European and Hungarian natural wines, we also offer juice pairings for those who'd rather not drink alcohol or are simply open to something unique. These exciting, acidic, fresh, full-bodied naturally-made drinks complement the dishes in their own right as much as wines do.
The eight drinks in Salt's juice pairing are all made in-house, showcasing the fundamental values of our restaurant: incorporating hand-picked wild herbs, minimising waste and using various techniques in a creative and unusual way.
A must try
Since the beginning of Salt, we've been experimenting with a wide range of drink preparation methods to create the most exciting and delicious beverages – drinks that can match our similarly daring dishes. We also created juice parings for our new menu in which you can try kombucha, water kefir, amazake, and even drinks made with smoking or cold soaking.
At Salt, juices are the responsibility of Fruzsi Farkas and Maya Makádi: their method is not designing a drink for each dish, but rather continuously experimenting to find the best, most harmonious and exciting flavours. Deciding on which drink is going to complement which dish happens when we design the menu together.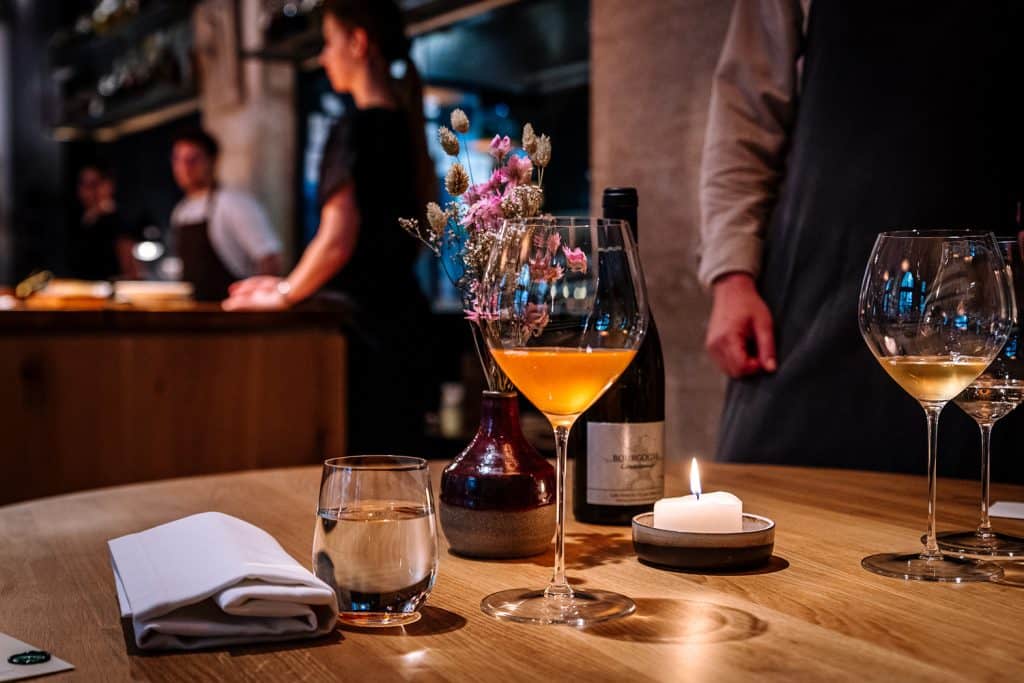 The fundamental values of Salt are present at each phase of the design process as well as in every sip of our drinks. We fight waste by often using ingredients for our juices that are the byproducts of creating the dishes: we mix parsley leaves with apples or turn redcurrants into vinegar. Wild plants and herbs are also an integral part of our juice pairings. The scent of linden, lilac, chamomile, and violet invoke spring and summer in the woods not only through our dishes but our drinks as well. Last but not least: different methods of fermentation play a key role in the design of all the items on our menu – drinks included.
Fermentation
Our juice pairings include exciting water kefir, kombucha and amazake drinks made with ancient fermentation techniques. Besides being incredibly delicious and boasting an unbelievably complex flavour profile, these drinks are also full of healthy enzymes, probiotics and vitamins which make them worthy of being incorporated into a healthy and balanced diet.
The base of each drink is a symbiotic culture of fungi and bacteria that breaks down the carbohydrates of the base drink (usually sweetened tea or rice), creating a healthy, slightly acidic, lively drink. We usually don't stop here and keep experimenting by fermenting these exciting, carbonated drinks with wild plants, fruit or spices to turn them into even more complex juices.
Those interested in the world of fermented drinks could get a glimpse into how to create these exciting beverages at home at the two summer workshops of our SALT Lab series. Stay tuned for more to come!
More article